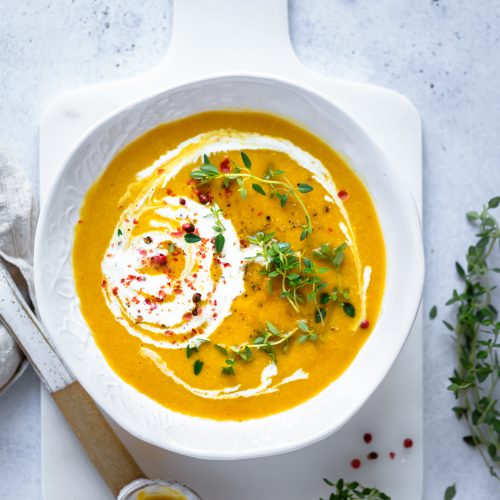 Pumpkin Soup
When thinking of pumpkins we automatically assimilate this brightly coloured vegetable with shortening days, colder nights and, without any doubt, the increasing popularity of Halloween.
Its origins can be traced back to Central America many thousands of years ago. Originally grown for its flesh, pumpkins also provide an additional treat in the form of its ready-to-eat seeds, packed with tons of nutrients.
One of the most popular uses of pumpkin is turning it into a soup. The following basic recipe creates a wonderfully simple but heartwarming dish.
Ingredients
400

grams

Pumpkin flesh

(code 298)

1

Large tomato

(code 6795)

1

White or yellow onion

(code 357)

1

Clove of garlic

(code 9672)

1

liter

Vegetable stock

(code 91337)

100

ml

Single cream

(code 7314)

Ground nutmeg

Pepper & Salt
Instructions
Peel the pumpkin. If you use a whole pumpkin, slice it in two and remove the pits. Dice the peeled pumpkin flesh into smaller chunks.

Peel and remove the pits from the tomato. Peel the onion and garlic clove and chop finely.

Sautee the chopped onions and garlic in a little olive oil at medium heat until soft.

Add the other vegetables, pepper and salt, and let it simmer for a few minutes. Make sure they do not burn.

Add the vegetable stock and let everything cook for 20 minutes at medium heat.

Once the pumpkin is cooked through, use a stand mixer to mix all ingredients together into a delicious thick soup. Turn down the heat when doing so and be careful not to burn yourself.

Taste the soup and season if needed with pepper and salt. The dish can be finished with a variety of additional ingredients such as a little cream, croutons, herbs, roasted pumpkin seeds
Notes
Add some crusty sourdough, lightly toasted and you have a great snack or evening meal to savour curled up in your sofa or in front of an open fire.